Innovation Management System
Innovation Analytics by the numbers
Learn more about innovation analytics for improving your innovation performance and business success- Contact us
The Innovation360 Framework, based on Magnus Penker's work 2008-2017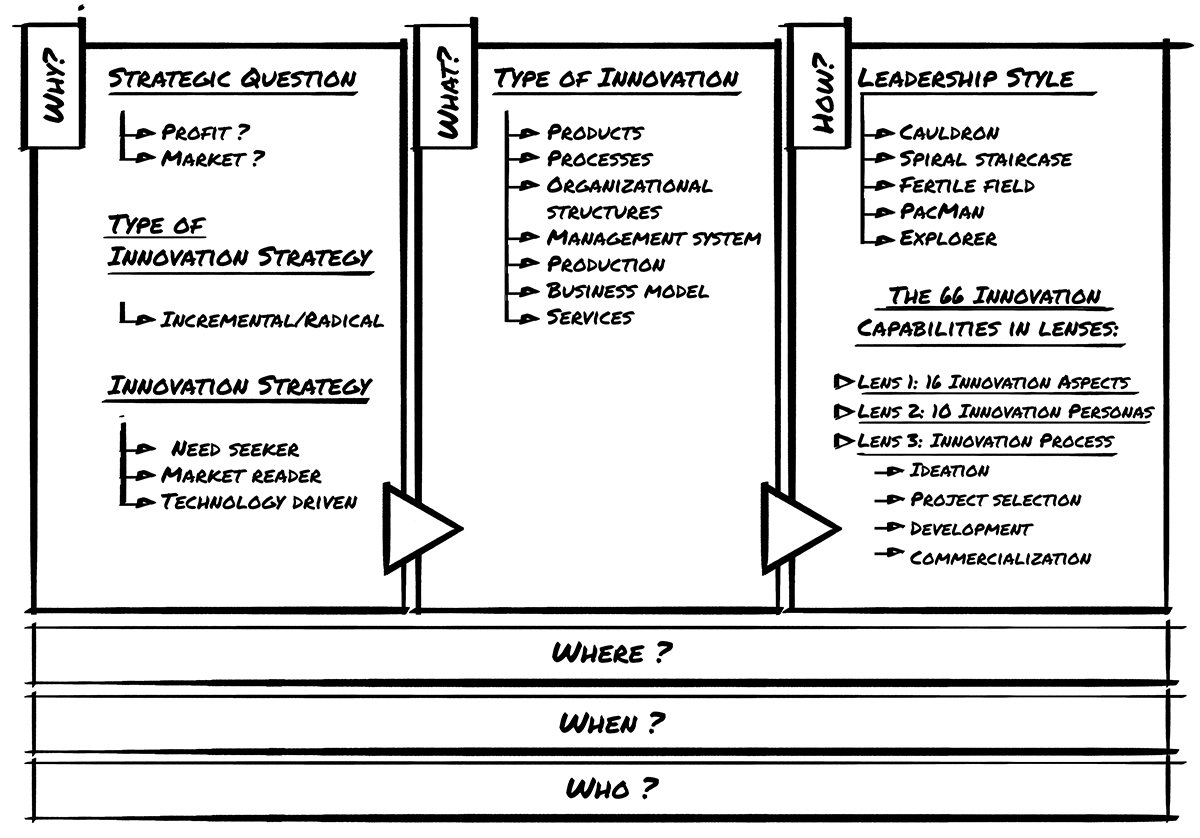 How to Assess and Measure Business Innovation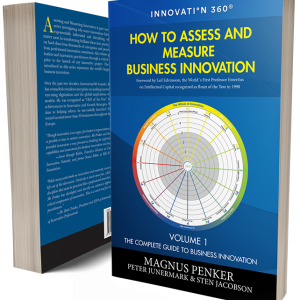 IL Master Class: Innovation by the Numbers
In Innovation Leaders recent Master Class, "Innovation by the Numbers," we explored how innovation metrics and analytics could be used to move company strategies forward.
The session was hosted by innovation expert and Innovation 360's CEO Magnus Penker.
Penker provided key insights on how to organize and manage innovation based on analytics. He also addressed how to assess and measure innovation, how to build and coach on strengths versus compensating for weaknesses, and took questions from the audience.
Penker also presented personalized data slides that participants contributed to by taking the innovation assessment survey, InnoSurvey, before the Master Class.
Answer the different questions of the innovation cycle using data metrics from the innovation analytics. Contact us to learn more.
Artificial Intelligence for Innovation Management System – Sherlock
Innovation is the art of thinking differently, and no modern tool is better at investigating new directions for thought than artificial intelligence (AI). That's why Innovation360 has just announced the official launch of their own next generation AI platform. His name is Sherlock and his powers of observation are quite literally super-human. His mission is to uncover hidden concepts within the world's largest database of innovation data.
Innovation360's Sherlock was created to be the first AI platform for innovation management system is trained by input data from over 1000 companies in 62 countries. Combining and recombining ideas from every continent, Sherlock is truly a global project and is meant to be a resource for the leaders of tomorrow.
As Sherlock draws from such a massive, diverse dataset, the development team at Innovation360, knew Sherlock couldn't come online until he was 100% contextual and tuned to the language of innovation management. Sherlock's guiding principles are based on logic from the last 100 years of innovation research, including insights from Innovation360 consultants and licensed practitioners who have worked with NASA, Spotify, McKinsey and Co., Harvard University and myriad of similar organizations.
Sherlock's development studio featured parallel automatic and semi-manual training, using parameters that included layers, neurons and activation functions for error detection and iterative learning. The team was diligent in embedding code for mechanisms which protects against de-learning and overlearning. Moreover, and perhaps even more significant, Innovation 360's ideation experts continuously test the limits of Sherlock and tirelessly add new input and output neurons to its network.
In The Adventure of the Copper Beeches, the 19th century consulting detective Sherlock Holmes famously told his trusty assistant Watson, "Data! Data! Data! I can't make bricks without clay." Now at last his 21st century counterpart has all the data he needs, with more coming in every day from inventive entrepreneurs and thought leaders within corporate innovation initiatives.
With the power of Sherlock's AI brain and the experience of Innnovation360 consultants and licensed practitioners to back them up, creative minds everywhere have the means to reframe the world's toughest challenges and build a more sustainable future.
Prepare to regularly revitalize your core value proposition through internal and external Innovation. This is more than just an ideal goal for the modern business. It is an essential survival skill in a hyper-competitive world.
How innovative is your organization in comparison with the rest of the industry? Where are your strengths and which capabilities need immediate attention? Where do you want to be by 2020? What's the bigger picture for the long term?
Many critical thinkers over the years have observed that you cannot overcome your current challenges with the same thinking that brought you to this point. It will require a level shift in strategic planning to get ahead, but some organizations are better prepared than others to face this reality and move in new directions.
Fortunately, an Innovation Capability is something that can be learned and improved upon through iterative practice. It starts by reviewing your strategy, leadership, culture and capabilities for Innovation – all summarized within the InnovationIQ.
Using Your InnovationIQ
The InnovationIQ measures the internal alignment and external expression of your readiness for disruptive market turbulence on the road ahead. Each client will see their InnovationIQ score generated anew every year by one of our consultants or by one of our Licensed Practitioners and tracked for trend analysis.
It establishes a baseline to compare what is trending in your Innovation Index, which places your company within the larger context of Innovation challenges at the regional or country level.
Your InnovationIQ immediately communicates your readiness for the changes ahead to all of your key stakeholders – your board, your customers, your employees, tour talent market and the greater marketplace. You will be able to display your InnovationIQ anywhere from your website to your annual report, just as you would a great credit rating by Dun & Bradstreet or a "Great Place To Work".
Based on their InnovationIQ scores and Innovation FootPrint from the InnoSurvey®, organizations can identify the priorities of their next strategic initiatives and start moving in the right direction. They can begin developing a long-term Innovation Culture that is conducive to practical creativity. They can foster the work of Innovation Leadership experts who are able to guide change agent teams in profiting from the pathways made and to avoid the mistakes of others.
The Basis of the InnovationIQ
To set an individualized baseline for development, we assessed the Innovative capabilities of more than 1,000 companies operating across 62 countries. Based on multi-faceted data analysis from our Innosurvey® database, we found it possible to distill the genetic components of fruitful Innovation for the business community.
These elements have been visualized and codified in the report called the InnovationIQ. Here's a brief overview of the InnovationIQ scoring categories and their implications for strategy:
InnovationIQ 0-30: Lack of Innovation capabilities, no clear strategy, leadership or culture in place for Innovation.
InnovationIQ 31-50: Some Innovation capabilities in place. Strategy, leadership and culture should be developed further to empower Innovation.
InnovationIQ 51-70: Strong Innovation capabilities in place. Strategy, leadership and culture aligned with the Innovation capabilities, but there is room for major improvement.
InnovationIQ 71-90: Very strong Innovation capabilities in place. Strategy, leadership and culture are aligned with the Innovation capabilities, but there is room for minor improvement.
InnovationIQ 91-100: Superior Innovation capabilities in place. Strategy, leadership and culture highly aligned with the Innovation capabilities.
This score gives you insights into the specific Innovation Management challenges facing your organization in the context of changes to your industry. Data points cover opportunities in areas such as supply chain, service openings, customer engagement, value capture, and targeted learning channels.
Contact Us To Realise The Power And Scope Of InnovationIQ
Better Innovation Across 3 Horizons
We recommend best practices for assigning Innovative development projects across three horizons.
Horizon one covers immediate and incremental improvements that return measurable impacts and keep the IT infrastructure at peak performance.
Horizon two introduces workable concepts that offer the greatest promise for expansion or market capture, assuring revenue for the future.
The third horizon is the most creative and expansive, commercializing applications from the second horizon in original and unpredictable ways. Although these ideas present the most significant potential, it will take precise and intelligent deployment of technologies from the first two horizons to get there.
Innovation readiness analysis should concern itself just as much with internal processes as with external offerings. Your InnovationIQ score will indicate which areas could profit most from new approaches, both in terms of profitability and market share.
From there, you can go on to reimagine the interactions of your high-performance teams, as well as, innovation test business prototyping sessions. There are many pathways that lead to streamlining workflows and ensuring stronger revenue streams. Initially, they all begin with an assessment to evaluate how ready you are now to seize new ideas and make them work.
If you want to assess your Innovation readiness and get an InnovationIQ, contact us directly and we, or one of our nearby licensed practitioners, which are currently in 20+ countries today, will help you.  Contact us here.

The Swedish-American Chamber of Commerce proudly invited top executives and influencers to this exclusive workshop held at the Swedish Embassy in Washington DC in corporation with the Swedish-American Chamber of Commerce, Magnus Penker and Peet van Biljon. This video explains the ideation of innovation management system and the three horizons.
Get In touch and synthesize data from multiple sources to transform it into a powerful intelligence with complete innovation diagnosis.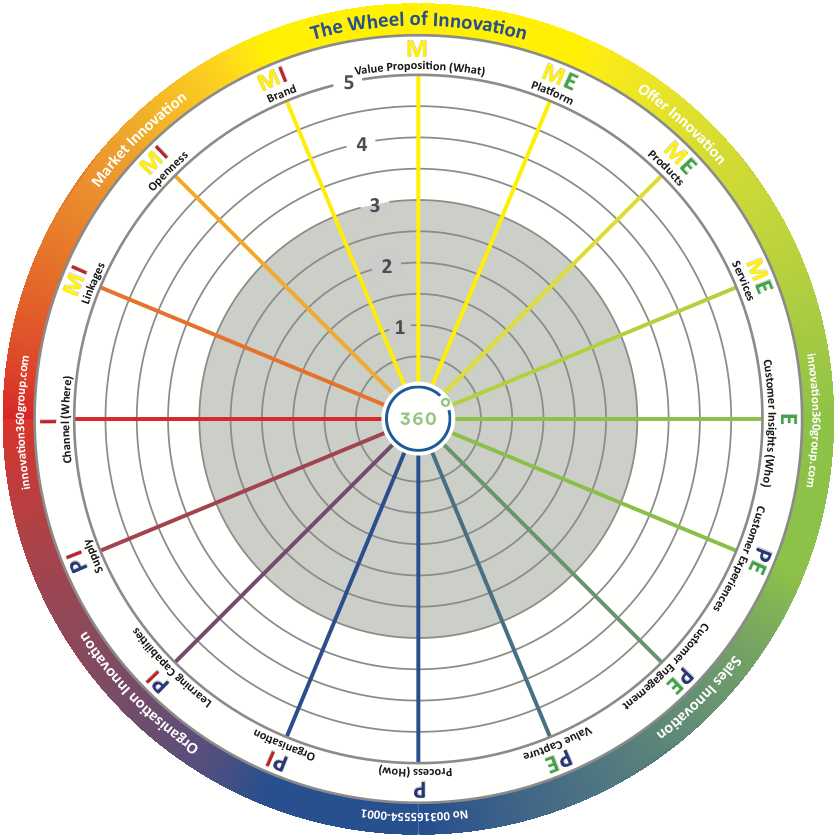 Measure your Innovation Capability
If you are interested in partnering for innovation analytics, you are here welcome to perform the free version of the Innovation Assessment InnoSurvey® and download a comprehensive 40-page customized Innovation report, including tangible recommendations on how to sharpen your Innovation Strategy, Leadership, Culture and Capabilities.
All the recommendations you will receive are based on what's most likely the largest Innovation database in the world combined with cutting edge algorithms to assist decision-making and pattern recognition. The questions in the assessment are available in English, German, Italian, French, Spanish, Turkish, Portuguese, Dutch, Swedish, Norwegian, Arabic, Chinese and Russian.